Synthetic Hair – FisHair
A highly durable synthetic hair used for tying fishing lures. Each step in the making of FishHair is done by hand to assure the quality our customers appreciate. The color is locked-in, meaning it won't fade in the sun or in salt water. Available in 33 different colors, and in 50 or 70 denier. The texture of the deniers may vary slightly because of our handmade process.
Per-Pound
Lengths: 2" to 12"
Individually Packaged:
100 Series - 1 hank per package
Lengths: 2.5", 4", 6", 10"
200 Series - 1 oz of hair per pack
Lengths: 2.5" to 3.5", 4" to 6"
Items that are crossed out have been discontinued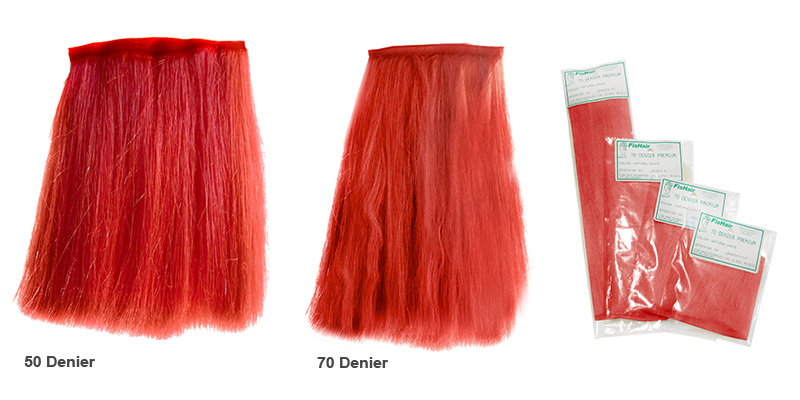 00B Polar Bear White
01 Natural White
02 FL Yellow
02B FL Yellow
03 FL Tangerine
04B FL Day-Glo Yellow
05 Mustard Yellow
06 FL Day-Glo Chartreuse
06B FL Day-Glo Chartreuse
07 FL Lime Green
07B FL Lime Green
08 Emerald Green
09 Moss Green
10B Sky Blue
11 Silver Blue
12B Royal Blue
13 Peacock Blue
13B Peacock Blue
14 Regal Purple
15B Nugget Gold
16B Squirrel Brown
17 Natural Brown
18 FL Day-Glo Orange
18B FL Day-Glo Orange
19 Feather Red
20B Burgundy
21 FL Dark Pink
22 FL Light Pink
22B FL Light Pink
23 Mouse Grey
24 Natural Black
25 Olive Green
26 Pale Pink
27B Neon Chartreuse
28B Neon Tangerine
colors with a 'B' have an extra lustrous finish
Nymo Nylon Monocord Thread
Fly Tying thread. Available in 12 different colors, and 4 sizes (000, A, B, D).
100 yd Spool
Sizes 000 and A
3 oz Tube
Size 000
6 oz Tube
Sizes A, B, D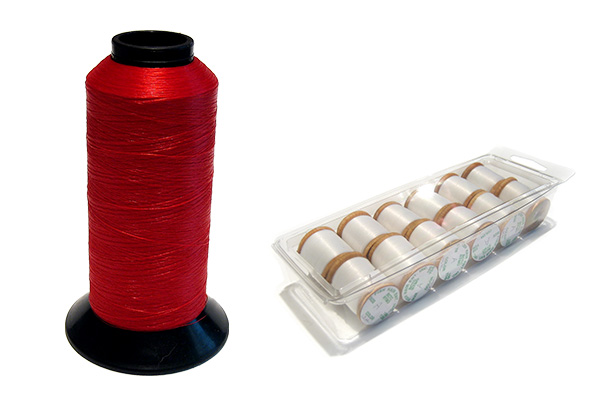 Size 000
1224 Brown
2780 Yellow
3743 Lt Green
4234 M Green
7237 Blue
Size A
0450 Bright Red
0538 Red
0953 Orange
1224 Brown
1248 Gold
1770 Beige
2780 Yellow
3743 Lt Green
4234 M Green
7237 Blue
White
Black
Size B
0450 Bright Red
0538 Red
1224 Brown
2780 Yellow
White
Black
Size D
0538 Red
1224 Brown
2780 Yellow
White
Black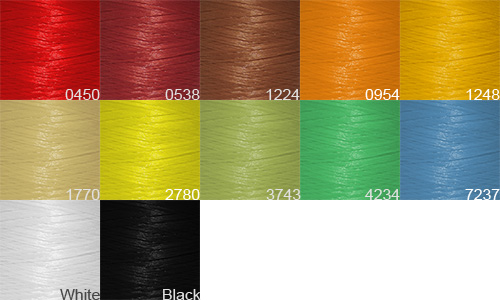 Discontinued Products
COMING SOON